ArteFiera Bologna 2018
Un percorso sulla pittura italiana e internazionale dagli Anni Sessanta a oggi
main section – Pad / Hall 26 stand B80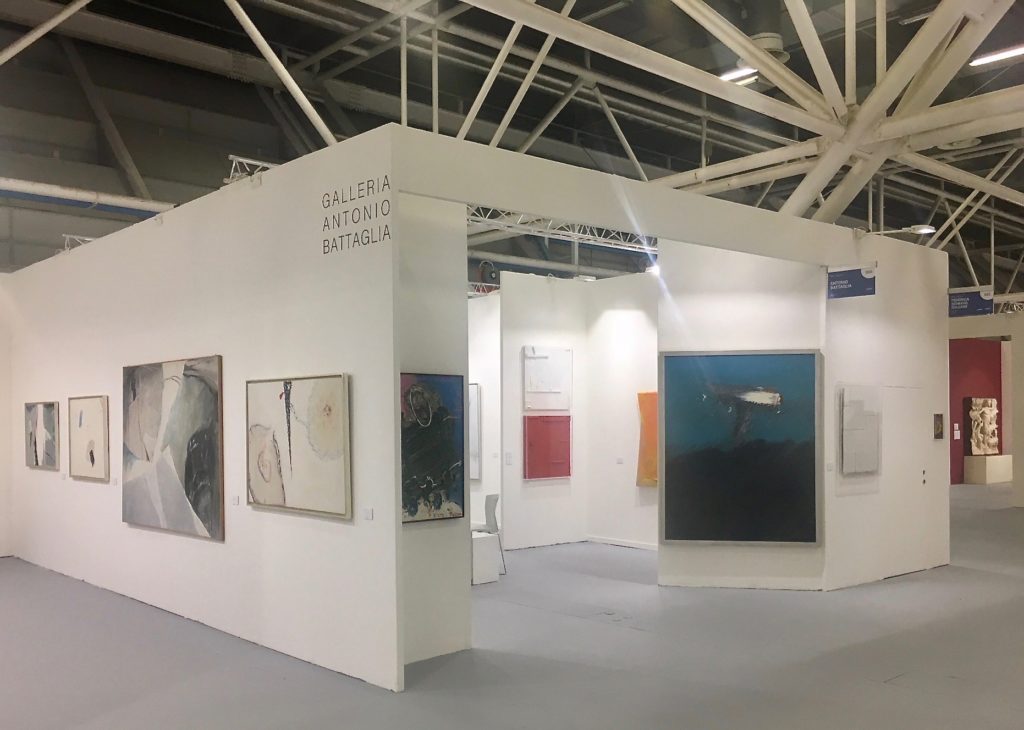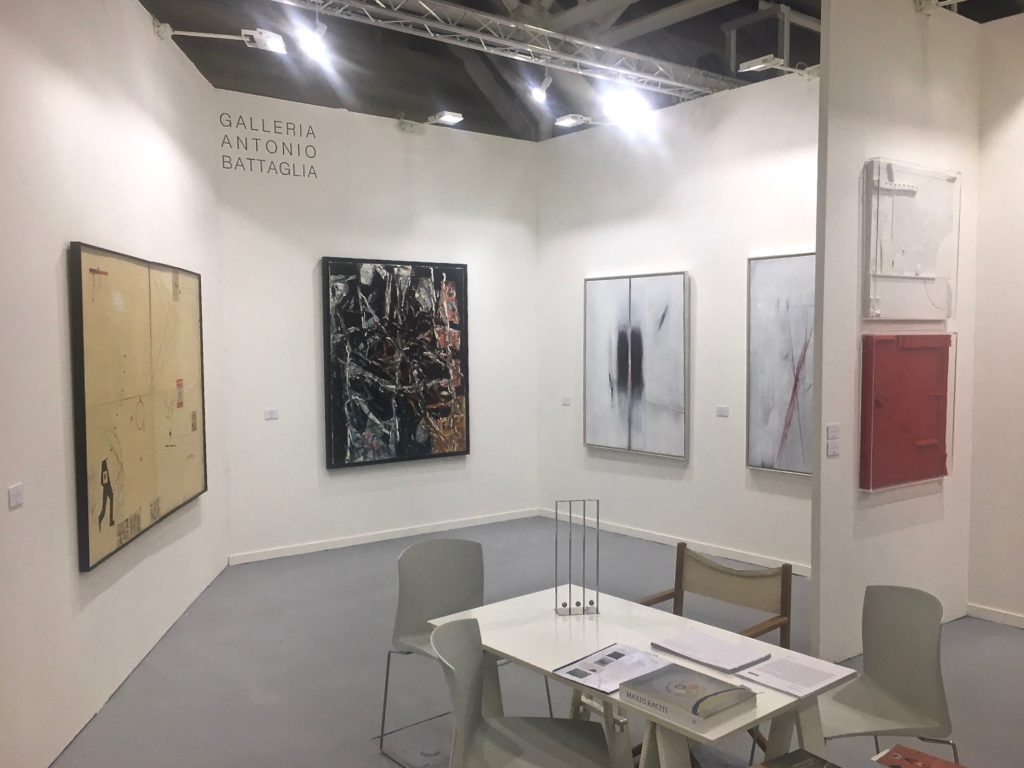 In occasione di Arte Fiera 2018 la Galleria Antonio Battaglia presenta una selezione di importanti opere dall'Informale ad oggi; a partire da Jean Paul Riopelle, tra i più importanti artisti dell'Informale materico, a Roberto Crippa, tra i firmatari, con Lucio Fontana, di uno dei manifesti dello Spazialismo in Italia. Hans Hartung, protagonista di una forte astrazione segnica, trova il suo seguito ideale nell'italiano Guido Strazza, da sempre impegnato in una raffinatissima ricerca sul segno, nel 2017 gli è stata dedicata una grande mostra antologica alla Galleria Nazionale d'Arte Moderna di Roma.
In mostra una delle figure più interessanti del panorama artistico italiano, Mattia Moreni, che in Emilia Romagna trova il rifugio ideale per la sua pittura di grande energia propulsiva. Si prosegue con Armando Marrocco, artista poliedrico e comportamentale impegnato nelle ricerche più avanzate degli anni Sessanta e Settanta, tra pittura e scultura, significativi di questo periodo sono gli Intrecci-Amplessi; c'è poi Mario Raciti, con le Presenze-Assenze degli anni Sessanta e Settanta, esposte nella mostra in galleria Opere 1960 – '90. Saranno inoltre presentati artisti della "generazione di mezzo" come il giapponese Tetsuro Shimizu che si trasferisce a Milano nel 1987 per frequentare l'Accademia di Brera, dove oggi insegna, sviluppando una ricerca personalissima sulla profondità della pittura aniconica tra densità e forza del colore e la materia del supporto sagomato. Sempre nell'ambito dell'impegno accademico importante è la figura di Aldo Spoldi con la sua Accademia dello Scivolo e i suoi personaggi virtuali, con la scultura e i disegni dedicati a Il Mangiatore di Mondi, insieme ad un significativo quadro del '68, Il naso – Banda del marameo, nel quale l'artista, ancora studente, delineava la propria impronta artistica nell'ambito della contestazione giovanile in chiave ironica. Rilevante è la presenza di Gino De Dominicis, artista misterioso e ancora da riscoprire, singolare e dirompente la sua ricerca artistica degli anni Settanta e Ottanta, in bilico tra concettuale e ritorno alla pittura. Si giunge così ad una nuova proposta della pittura, il giovane artista colombiano Juan Eugenio Ochoa che si trasferisce in Italia e si diploma nel 2013 al Biennio di Pittura all'Accademia di Brera con una tesi sulla pittura analitica che caratterizzerà la sua personale ricerca con la serie Lirica-Analitica facendogli ottenere diversi riconoscimenti in premi e mostre in Italia e all'estero.
Antonio Battaglia
Milano, gennaio 2018
For Bologna Art Fair 2018 Antonio Battaglia Gallery presents a selection of important works from the Informal period till today; from Jean Paul Riopelle, among the most important artists of the earthy informal art, to Roberto Crippa who was together with Lucio Fontana among the signers of one of the Italian Spatialism manifesto. Hans Hartung, who is protagonist of a strong sign abstraction, finds his ideal follow-up in the Italian artist Guido Strazza who has always been involved in a refined research about sign; in 2017 a big retrospective exhibition was dedicated to him at the National Gallery of Modern Art in Rome. In the exhibition there's one of the most interesting artist of the Italian scene: Mattia Moreni; he finds his ideal refuge in Emilia Romagna for a painting of big propulsive energy. Armando Marrocco is also present; he is a versatile gestural artist involved in the most advanced researches during the Sixties and the Seventies between painting and sculpture; Intrecci-Amplessi are significant artworks from this period. There is then Mario Raciti with his works Presenze-Assenze from the Sixties and Seventies exposed in the exhibition Opere 1960 – '90 in the Gallery. Some middle generation artists are also present as the Japanese Tetsuro Shimizu who moved to Milan in 1987 to attend the Brera Academy of Art where nowadays he teaches. He develops a very personal research about the painting's depth within density and force of the colour and the matter of the shaped support. Aldo Spoldi with his Accademia dello Scivolo and his virtual characters, with his sculpture and the drawings about Il Mangiatore di Mondi is another academically committed artist. A significant work from 1968, Il naso – Banda del marameo is exposed; in this work the artist, still a student, shaped his art during the young protest movement in an ironic way. The presence of Gino De Dominicis is relevant; he is a mysterious artist who has to be already discovered, he was unique and shattering in the Seventies and Eighties artistic research between the conceptual art and a return to painting. And there is then a new artistic proposal, the young Columbian artist Juan Eugenio Ochoa who came to Italy, attended the two-year painting period at the Brera Academy of Art and graduated in 2013 with a thesis about Pittura Analitica who would characterize his personal research in Lirica-Analitica series through which he would gain many recognitions in prices and exhibitions in Italy and abroad.
Antonio Battaglia
Milan, January 2018